Changing a room is easy as point, click, hang.  Here are two ways you can create an entirely new look to your interior.
Photo : Live from the Moon
1. Tapestries
Hang a tapestry, and change a room, what a great idea. Is anyone using tapestries anymore? Of course they are. Taking a bleak and basic wall whether it be in your dining area or living room area, and adding a tapestry is easy as finding one you like online and ordering it.  Some will come with free rods, so that the only thing you must do is install minimal hardware onto the wall.  Most  European Wall Tapestries  are in demand. Hot design trends include tapestries that look like oriental rugs hanging on your wall, animal prints or baskets of country flowers, and shabby French inspired tapestries.  Our pick of the day is this shabby French tapestry, which is $485, you can click on the icon below to view it.  Make a note that most high quality tapestries will cost you $250-$500 which is  much cheaper than redecorating a while room.
Click on it to see this Tapestry
2. Decals and Vinyl Wall Art
Another idea for redecorating a room is applying decals to your wall also known as instant vinyl wall artl. We've discussed this before and although it's not quite as difficult as hanging hardware to support a tapestry, it will require some skill, precision and patience. If applied wrong vinyl wall art may get bubbles in it, and you will be forced to smooth it as you go. For about $25 you can turn a living room into a view of Paris.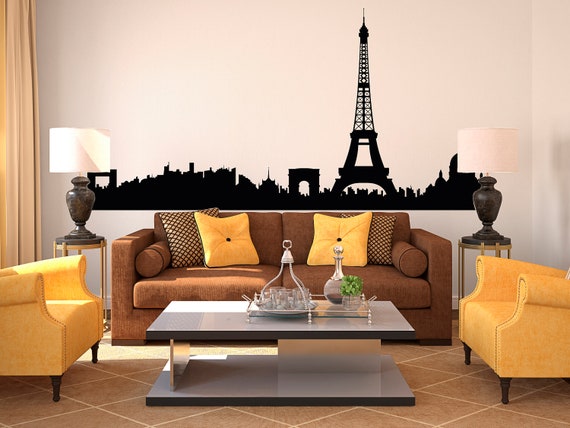 The Paris Skyline $25 at DanaDecals on Etsy
With any design idea, there are Pros and Cons of both. Which will work best for you, for ease of use and your budget?
Tapestries

Pros:
Many designs and styles to choose from
Can change easily
Minimal hardware required.
The Rod is interchangeable. If you get tired of a design, you will already have the hardware and rod mounting so that you may simply buy a new tapestry and change it out.
Cons:
Most quality tapestries are expensive
May need to be professional cleaned.
Decals and Vinyl Wall Art
Pros:
Many designs and styles to choose from
Eesy to install if you are patient.
Basic colors are inexpensive.
Cons:
Rushed installation or less quality vinyl may rip or break during installation
Some users report removal of  chippy paint on older houses, once decal is removed. This may leaving your wall in need of a repaint.