Last Minute Gift Ideas Vintage Style!
Jewelry to Die For 
KKVintage has the best retro style jewelry, with Christmas sale items !and diamonds!  Their style shows a unique movie star meets diva look using stunning bands, gorgeous gemstones and high quality details fabricated to give you that one of a kind look !  The Pearl Ring above is currently on sale for $584.76 USD and shows a center pearl adorned in yellow gold setting with shoulders of diamonds flowing down the side!  Perhaps known for their genuine "movie star" style, KK – Vintage is based in UK but ships worldwide. Our favorite is the flower of diamonds, what they call the "Diamond Rose" which glistens with diamonds and a very unique band , below.  Currently priced about $3280 (subject to change based on conversation rates.)  Find out more at KK Vintage.
KK Vintage : Gorgeous Rings 
Vintage Up Your Home
Adding simplistic things to vintage-up your home to change a look of a room is simple and a great gift idea. Here's a great idea to do a complete room makeover for pennies on a dollar.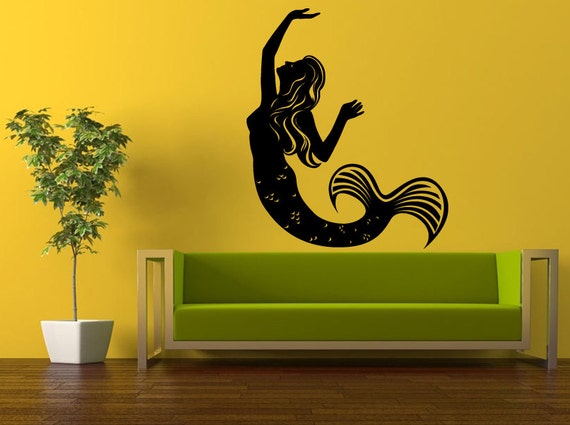 Decal Trend offers this 40's Style Mermaid Decal for only $17.99
As we've said a thousand times simple ideas such as a decal on the wall can change the feel and look of a whole room in minutes flat, compared to the cost of a total remodel, decor change or new paint.  You can get these decals in many colors to offset the wall.  Make it "pop" with something vintage. Decal Trend offers may unique decals from things the yoga lover would love to inspirational quotes, and funny things for gamers on your Christmas list.  These gift ideas are simply great and would fill the stocking for under $20. See more on Etsy @Decal Trend.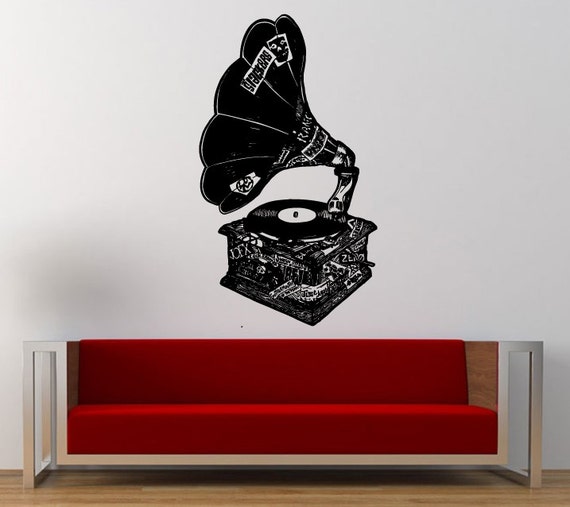 Our Favorite: The Gramophone Decal from Decal Trend, in many colors $17.99+
For Your Silly Self or Those Hard to Buy For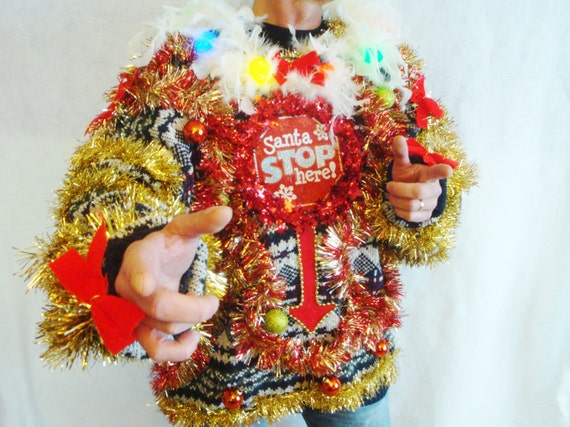 Eegads, it's so ugly we love it from Tabor's Treasures only $79 for a 2X
Ugly Christmas Sweaters are a huge thing, still, as a gag gift or to wear to your favorite Chritmas dinner. Be the talk of the town with these politically incorrect sweaters to wear on your persons or for after-Christmas parties. Be the talk of the town or into the new year with Novelty sweaters made by Tabor's Treasures on Etsy.  Styles range from Obama to downright Ugly….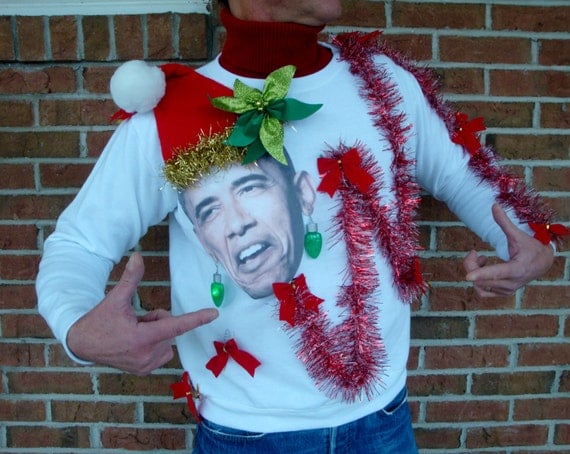 Ugly Political Christmas Sweaters good for Season $69+ at Tabors Treasures on Etsy.
Whatever you do, make sure to have yourself a nice and happy holiday! Live retro, love whole and enjoy your Season!