Herb and Bumble
Stephanie from Polk City, Iowa is the owner of Herb and Bumble, where you find all the natural skin care products without harsh ingredients or chemicals.  When asked about her reason for creating such great items, here's what she had to say.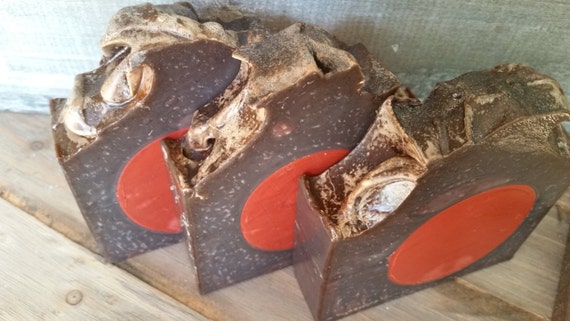 Blood Moon Soap: Avocado Oil, Shea Butter and Sunflower Oil  $6.00 here
Stephanie explains, "I've always suffered from dry, irritated and eczema prone skin. I've taken numerous medications over the years and even tried expensive soaps and creams. It was a frustrating battle that I just couldn't seem to win! That all changed when my husband bought me a glycerin melt and pour soap kit and my journey into healthy skin began! "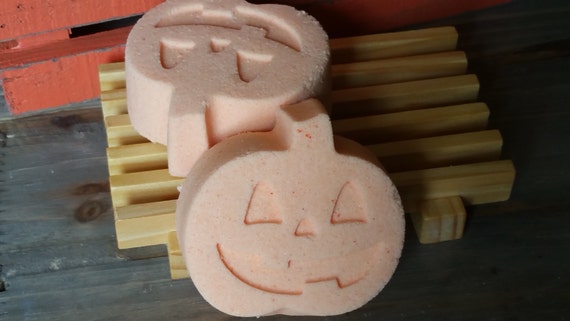 Adorable Pumpkin Bath Fizzies,  Clever Way for Kids to Enjoy Bathtime. Find them here $2.25.
So why did Stephanie takes her soaps to Etsy?  She says, "After years of making soaps for family and friends, I'm finally ready to share my creations with the world. I am passionate about bringing you beauty products that will truly transform your skin. My products are free of harsh chemicals and synthetic detergents and filled with good for you ingredients. Soap making is a work of art that truly allows my soul to sing. You'll notice my soaps are often colorful, swirling and twirling with rich oils and butters. I love interpreting the soothing aroma of essential oils into a palette of colors and patterns. "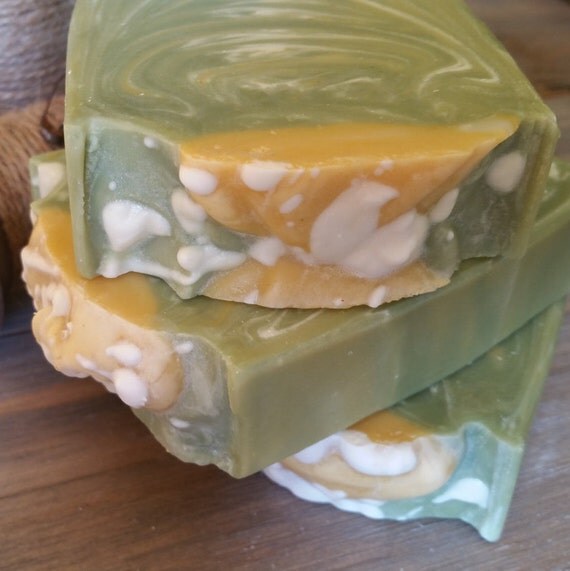 Looks Scrumptious: Green tea Ginger Pear Artisan Soap $5.00 here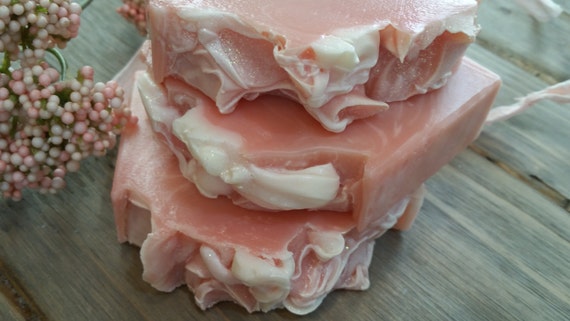 Jasmine, Peach, Cherry Blossom and Orange make for a "Love Spell Soap" $5.75 here
The above soap takes 30 days to cure and soothes your skin with natural Shea Butter.  It's scented with several natural products and dubbed "Love Spell" since you will surely fall in love with it.  She also creates all these from her small town of Polk City, Iowa (less than 3500 people according to the last census) . What does Stephanie do when not creating these delicious beauty products?
She says, "When I'm not making soap, you'll find me scrapbooking, reading, cooking, gardening and enjoying the beautiful outdoors. I find peace in nature and enjoy a morning stroll through my garden or in the woods. I've shared 21 years of marriage with my amazing husband and we have three sons together.  Our oldest son was married last June so I am happy to say I finally have that daughter to love and cherish! We live in the beautiful state of Iowa and love the vibe and sincerity of the Midwest. My favorite part of living in Iowa is what they call, "Iowa Nice!" The people are giving, loving and always have a smile on their faces."
Herb and Bumble's soaps and bath fizzes make for great all natural gift giving ideas or stocking stuffers. Find out more here: