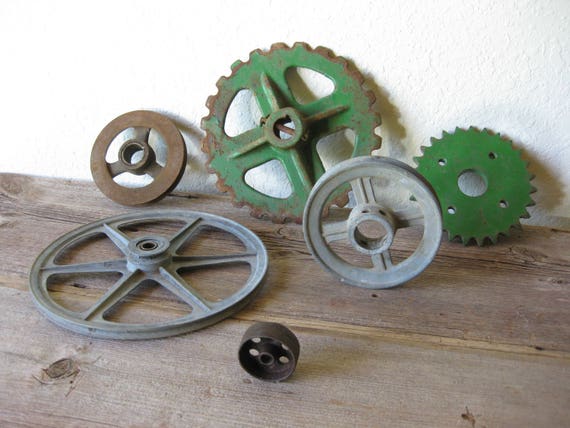 Set of 6 metal wheels/sprockets from etsy shop PhloxRiverStudio $99
Why We Love Industrial Relics and You Should Too…..
Industrial relics are not only items once forgotten from industrial times, but are also easy on the eyes…they can be used as a small vignette display in the home, or re-purposed into other things.  Quite addicting is the love for industrial relics.  Today we examine the three key forms of industrialism:  Metal, Ceramic/Glass and Wood. Here we have listed some of our favorite industrial finds.  Sometimes, just sitting objects of yesterday around in the home make for interesting conversation or reminiscing what they were used for , and how.  Above: old farm wheels and sprockets look great in original shabby condition and will make great display in the home.
Ceramic Glove Molds in Basket, offered by RetroChalet, sold individual range $32-$38
RetroChalet on Etsy offers these industrial glove molds. Apparently the curator rescued tons of forgotten quantities from a defunct glove mold factory, in one article, stating they were to be destined for Crush and run on a driveway. Oh no!  Now they can be yours in your home for hanging your favorite shabby jewelry on, decorating the home, sitting in the garden, or using an an art object. Although most glove molds that are porcelain are shiny and glazed, the ones above are not! They are in raw form which makes it great for painting.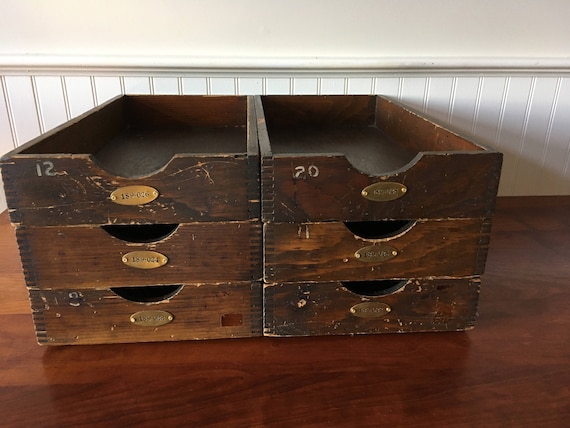 Farmhouse Eclectics offers these great woode vintage bins $29
Perhaps the best thing about vintage wooden items is the story, the trail on how it came to be. Back in the old days, workers grew tired being master carpenters dove-tailing wood together ever so craftily, making the most glorious furniture and desks.  Before the age of machines, wood working was a master trade. Today maybe a thing of the past, as so much commercially is done.  Finding old industrial wooden objects like the drawers above would be perfect utilization of files on your desk, or to store your crafty goodness in.
Make Something Grand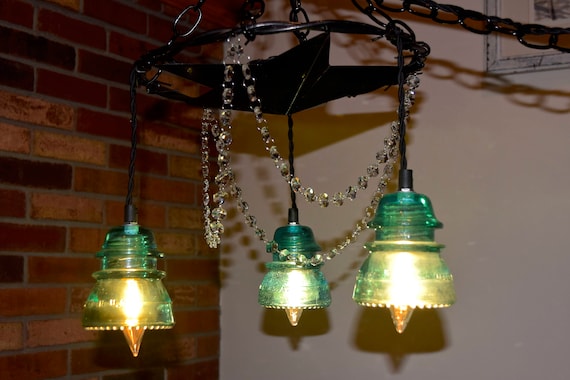 Reuse of Glass insulators into a functional chandelier by WolfeInnovations
Creative Reuse is a wonderful thing, using industrial components. These items show just what people have done to industrial relics. Above, in glass, old once forgotten insulators make for a functional art light for your home.  These are handcrafted by WolfeInnovations who has many lights in stock.   This is a great way to preserve something antique and make for great conversation.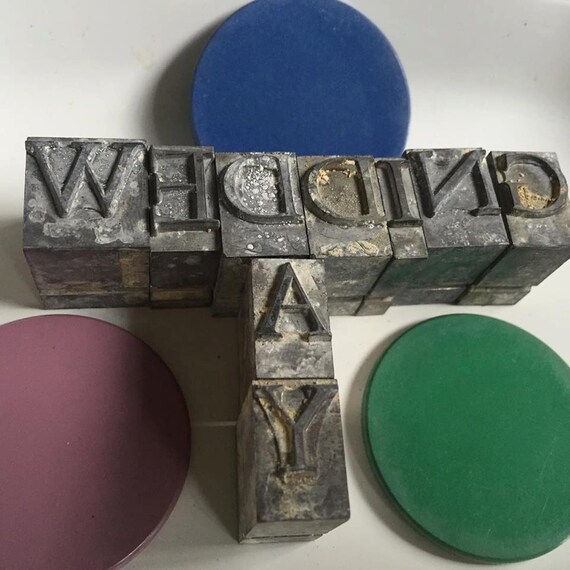 RetroChalet offers these DIY letterpress typeface industrial relics for $9.95
If you are crafty enough yourself, grab some vintage metal industrial letterpress letters and hand stamp your junk journal or wedding invitations.  The letters can be hand stamped in any fashion making for individual goodness.  You can also rearrange the letters and make your own custom designs in your journal or crafting. Preserving antique letterpress that was once used to print newspapers and magazines the typeface is simply grand.  Most are made of soft leaded type metals and not good for hand stamping into metal, but can be used on pottery, clay, or in scrapbooking or art collage projects.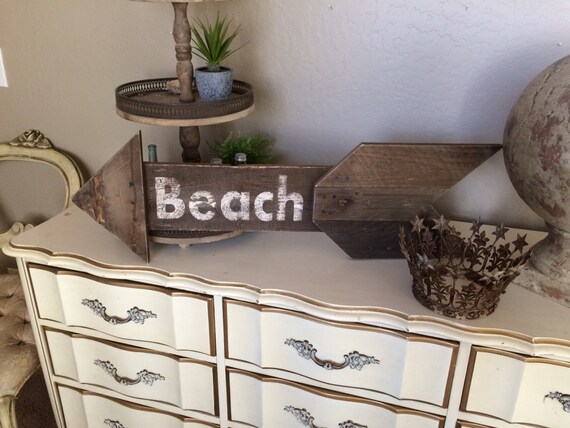 Repurposed Wood Sign from Armor Decor and More $25
Armor Decor and More has found a great use for old wood, and old wooden pallets repurpusing them into functional art decor for the home. Simply adorable is this beach sign with the arrow that points in a direction (far from here…).   Daydream a little while you bask in the thought of warmer climate and family vacation, a break from the tedious job at hand.   Where was this wood once? Where has it been? Now it can be in your home for a reasonable price.
Support Etsians.
Why buy mass produced junk when you can support artisans on Etsy who make things and sell things that are found, made, repurposed with love or can be used in the home or for art decor or supplies?  Check out Etsy today.
If you like this article, share it, and please note any links that go dead will be removed. This article was written in 100% opinion of the Editor and no sponsor posts were used.