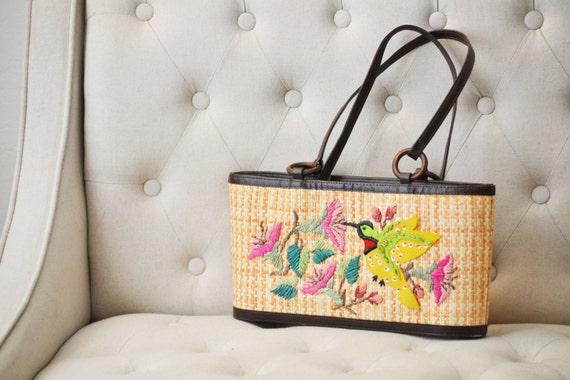 Hummingbird Straw Purse and  found here at YellowBeeVintage on Etsy
WALK TALL & CARRY A VINTAGE PURSE
A true fashionsta would appreciate these great handbag finds. Sure, someone may have your high fashion outfit, and if you think they can wear it better, think again.  You can blow away the competition with an antique or vintage purse. Who would be strutting that stuff? Only you!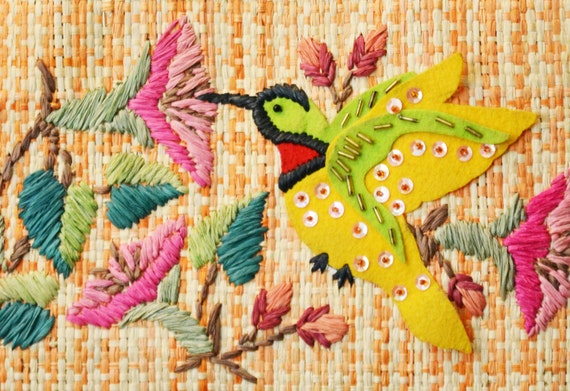 This Purse shows so much detail, at $25 a real steal.
We say, be super design-swag and set yourself apart from the competition.  Straight out of the 50′s – 60′s era and when things were sewn by hand comes this raffia bag, that's been hand appliqued with a great hummingbird design. Probably a gift from granny's trip to the Philippines, it measures a sweet 14″x7″ to accommodate your cell phone, make up and wallet.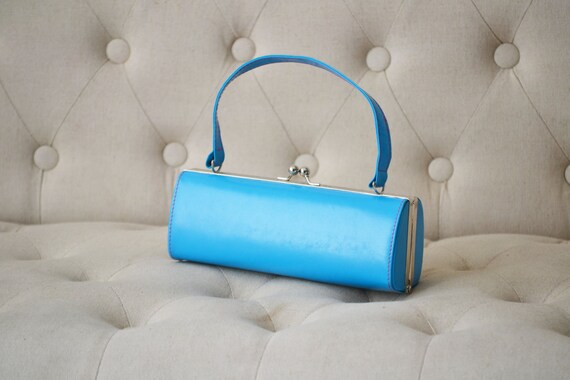 Our favorite is this cool blue purse, only $18 snatch it now.
Nothing says hello like this adorable little blue purse. It's only $18 and we are surprised it's still available.  With it's hot pink stitching and a kiss-lock  opening, it's tres' cute.  The retro styling had us at hello. Yeah, you can fit some stuff in here…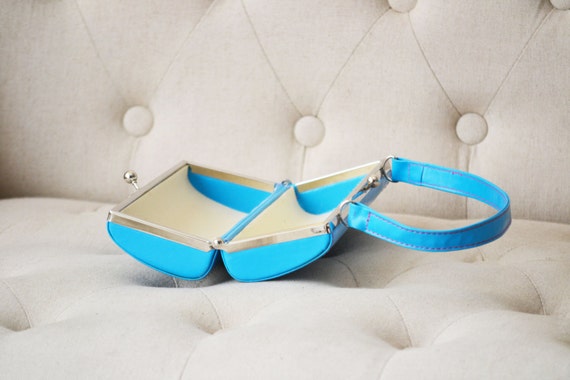 Found: Yellow Bee Vintage on Etsy
If the whole 50′s – 60′s theme isn't grabbing you, why not go evening bag style? This black evening bag (below) looks like a cross between the 60′s chic met the 80′s beading club.  We love it because it's blingy and flashy in today's times.  Show off that dress girl…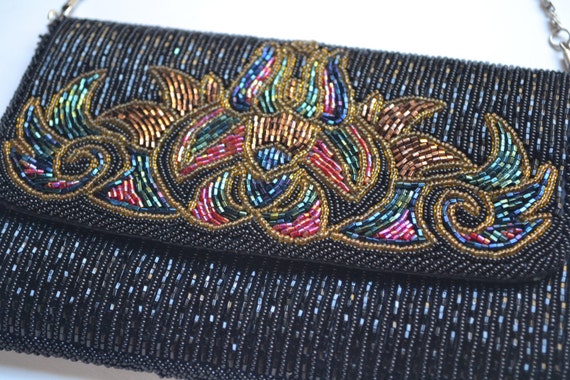 Cool Vintage Bling Beaded Purse, $15
Yellow Bee Vintage has other items not just purses. From scarves to earrings to housewares, this chic shop is run by Nicci from Glendale Arizona.  She work in the renewable energy industry by day, but spends her weekends finding the best vintage items to offer in her Etsy shop.  She says, "My tastes are a bit eclectic!  I enjoy reusing vintage items and feel it's a simple way to contribute to a better planet. "
We couldn't agree more.  Connect with YellowBeeVintage on Etsy.
Related articles