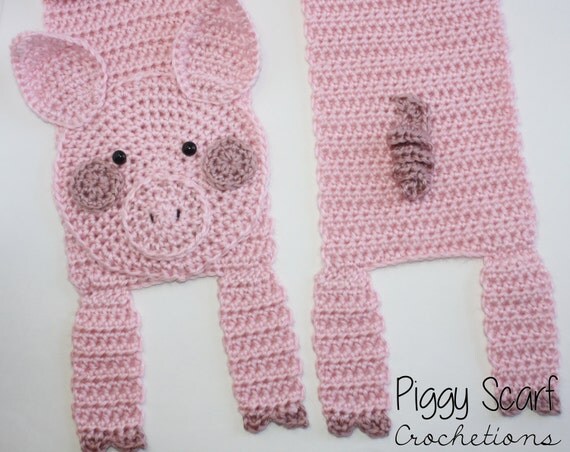 Adorable piggy scarf, $40 Crochetions .  Buy this one on Etsy here. 
Holiday Fashion Finds : Shop with Style!
Holiday cheer is here with these cute and easy holiday fashion finds.  Buying gifts for your loved ones can be easy as point, click, pay. Online shopping for the frugal  and the fashion savvy can be fun and adventurous.
Doggone Cute
First up, we have adorable crocheted scarfs in animal designs, made by Shelley Brown, who sells on Etsy, Ravelry and direct.
In the $35- $40 range you can get your loved one these adorable cute scarves!  From dogs to dragons you never know what kind you will find!  Shelly explains, "My site Crochetions,  is where I post the items I sell. I design and make crochet items (mostly scarves and hats). I focus on creating scarves and hats that look like different animals (mostly dogs) I sell items made to order by me and also the crochet patterns so other crocheters can make my designs as well."     Buy a design, or the items by visiting Crochetions.com.
Adorable Doxie / Dachshund  Scarf, $35 find all dog scarves here at Crochetions.
Natural Men's Gifts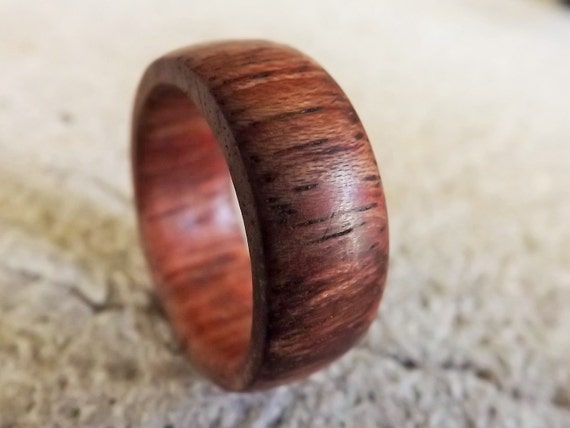 Handmade Men's Ring by Joshua Bishop $30 
Wooden Rings Stocking Stuffers
Joshua Bishop Etsy shop has great inexpensive handmade things for the special man on your list. From wooden rings , slide bracelets and pens, you'll find a bit of everything in his shop.  Staff favorites by far, are the handmade wood rings, ranging around $30.  This way, you can score a lovely stocking stuffer for your favorite man on your shopping list without busting your budget. Above, we have Bubinga wood (African Hardwood) and below delicious Ebony!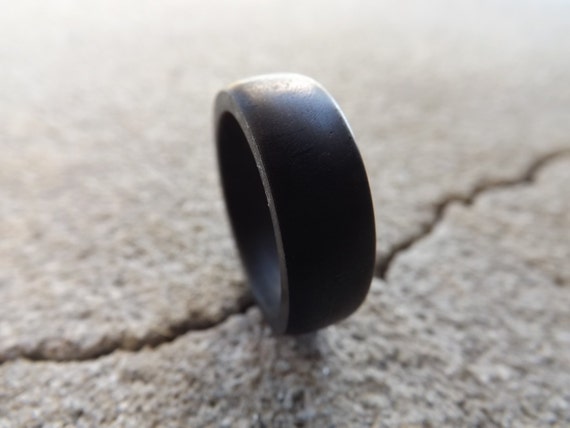 Joshua Bishop Handmade Ebony Ring for Men, $30 found here on Etsy.
Bracelets for Men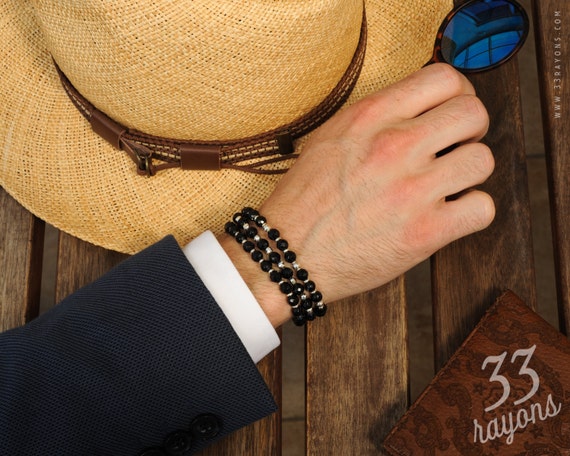 Men's Bracelets , Triple in Onyx $69 here at 33Rayons on Etsy 
Men's Bracelets
Next we find this great Etsy shop who makes elegant and affordable Men's Bracelets by owner Jacques LeClair.   You can get them in one strand, double, or triple and all are made with rocks, wood and natural components to make your guy's wrist stand out.  Men like simplistic yet solid designs, and these are so worthy. Average pricing for a triple, about $69!   Single? About $39.   The bracelets are made with Sterling Silver 925 Made in Italy components, and come gift boxed.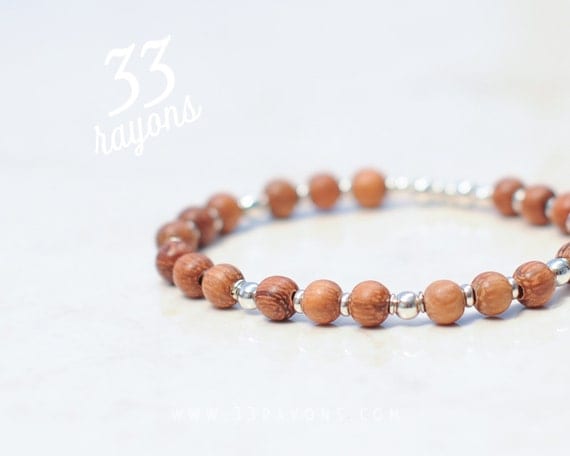 Single Bayong Bracelet, sterling and wood $39 at 33Rayons.
One of our favorites is the Bayong Wood, it would go great with anything.   Bayong is a durable hardwood with similar properties to mahogany. From the 'Afzelia rhomboidea' tree a species of legume in the Fabaceae family, found in Indonesia, Malaysia, and the Philippines.Find out more at 33Rayons .
Back to the Women…….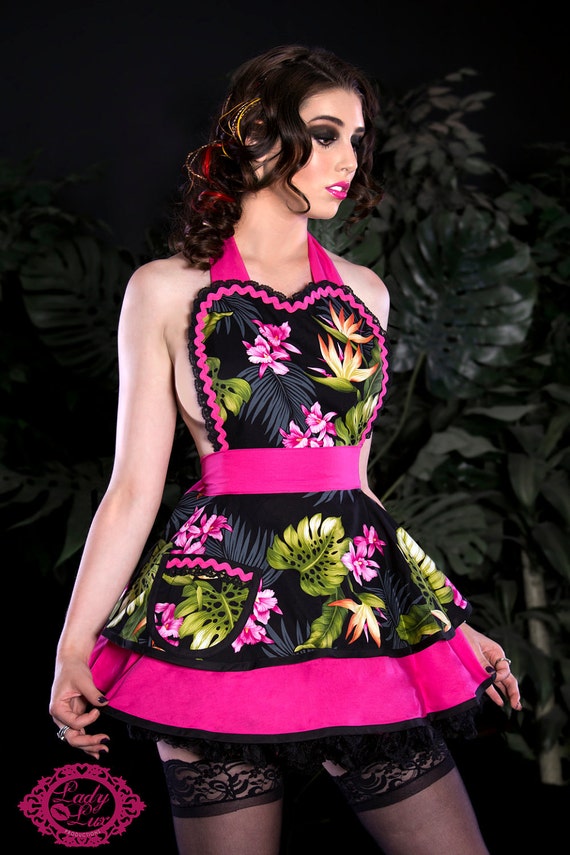 Tiki Apron : Making Baking Interesting $54 at Dotties Diner
Kitchen Witch Doesn't Have to Be Out of Style
Aprons for the Mrs. would be an interesting gift idea, get her to look cuter while baking or make her do Cheesecake Photos in private, your choice!  Adorable retro aprons at Dotties Diner on Etsy bring back the vintage look with modern style. Our favorite above is a Tiki inspired apron.
Tiki Fountain, $169.99 on sale here. 
Tiki Culture is booming in America, just ask the folks over at  Tiki.Online who have a huge Tiki inspired shopping website.  From Tiki Bars to Tiki Torches, you never know what you may find.   Don't anger the Tiki Gods!  According to Wikipedia, the whole Polynesian Culture of Tiki began in 1934 with the opening of a restaurant. The rest, from mugs to torches spread like wildfire.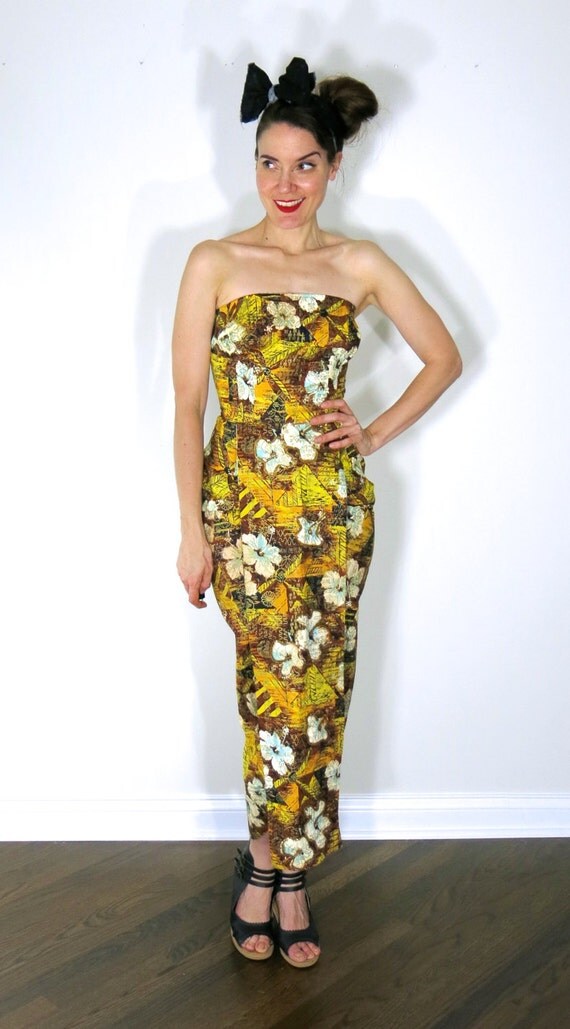 50's Tiki Dress found on Etsy, $120 here at VintageDomestic
Adorn her with Jewels…….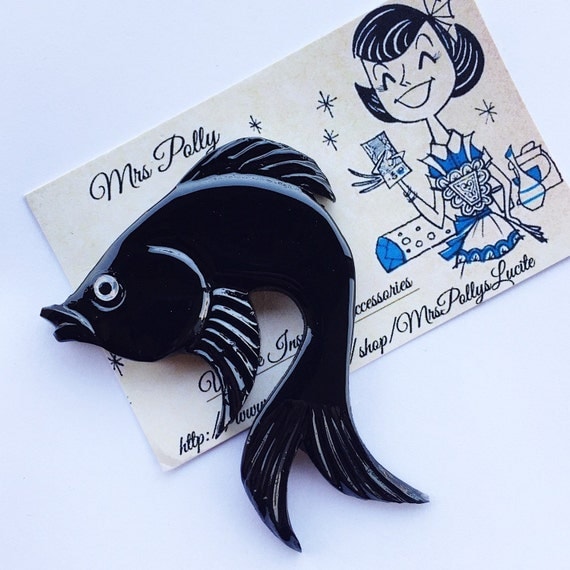 MrsPollysLucite on Etsy makes cool brooches to look like vintage Bakelite! This fish $20.79 here.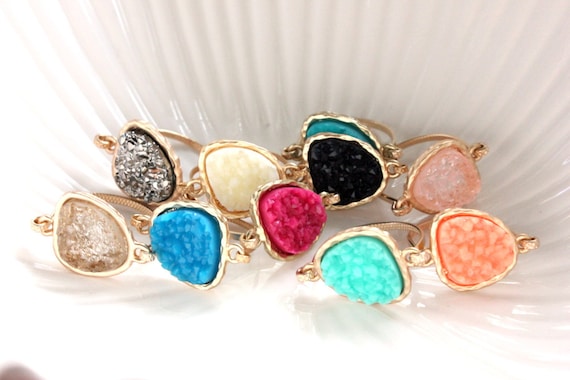 Handmade Druzy Rings on Etsy, $12.50 Find them here at Anthology 27
Anastasia Savenko 14k Gold Earrings   – Handwriting Jewelry $580
Jewelry Trees and Branches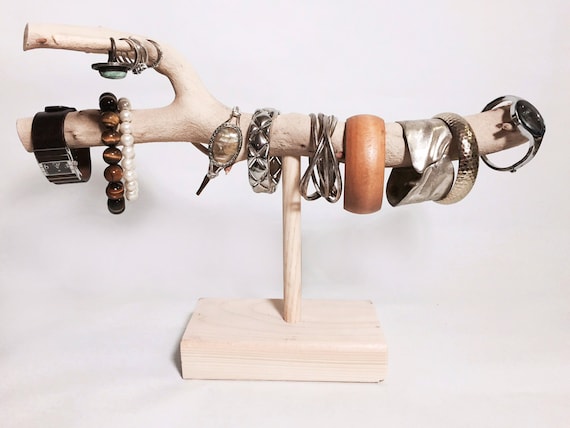 Jewelry Branch on Etsy is $30 from Heart Not Included
For the man or women on your list, they have one thing in common: ways to organize jewelry and their watches. We found this great shop, HeartNotIncluded on Etsy.  Owner Rosalind Bullard from California created her own jewelry tree and the rest was history.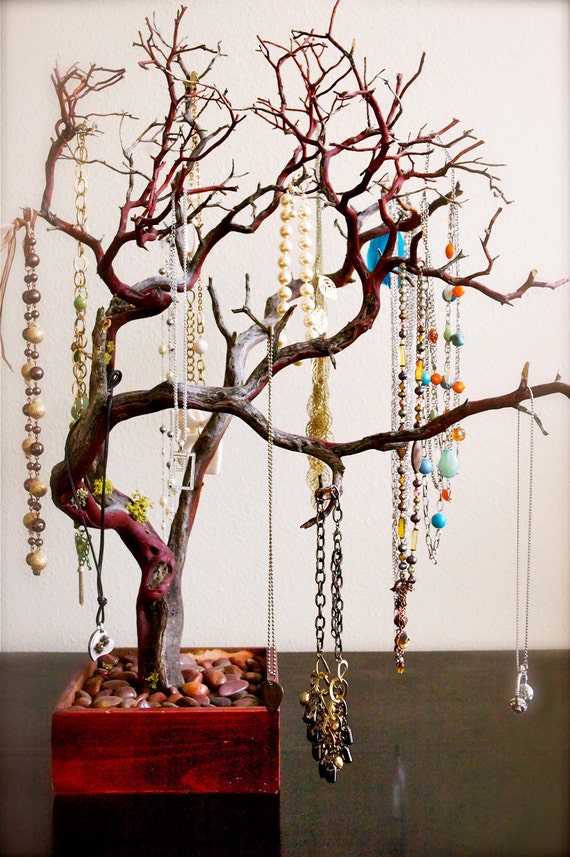 HeartNotIncluded  Red Jewelry Tree Organizer  $90 Great Gift Idea!
She now creates lovely boutique style jewelry trees using real trees that were living at one point in time. Some have butterflies and are painted. (see Red Jewelry Tree Organizer above…)  They are set in wood boxes with rocks and make stunning artful and functional displays to organize your jewelry . Trees range from extra small to large with average pricing around $55-$90.  You can view more designs here in their sales booklet.  The options are endless for picking out just the right tree for you or your loved one's home.
Places to Watch: 
OmniiShop is an up and coming marketplace. 
We've been watching this website pop up!  Omnii Shop ("Omnii") is a community-based marketplace, welcoming all craftsman and artists, with emphasis on providing a secure platform for selling and buying both physical and metaphysical items. Their listing fees are only 15 cents (lower than Etsy) and they charge a flat 6 percent checkout fee (which includes all your fees.)  Listing items there is easy sign up and registration. Users have to connect to new or existing Stripe for payment processing.  We can't wait to see what happens to this website! Will it be the next Etsy?   Read more about this service at OmniiShop.com
Note: Some of the links in this post may be paid or sponsor links, yet the selections and suggestions are all our own.