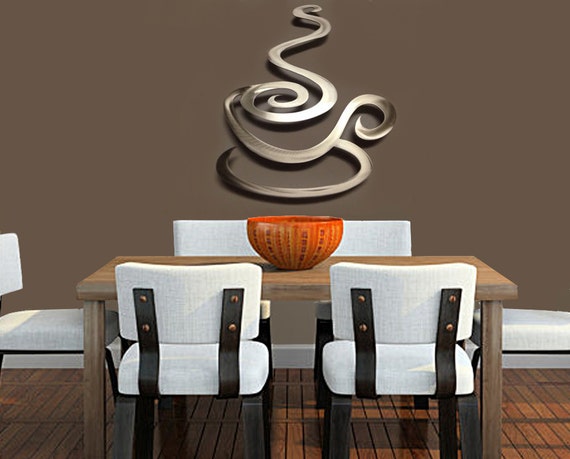 Pic: INSPIREMETals on Etsy, Coffee Cup!
Nothing says welcome to the kitchen for a nice cup of coffee than a nice cup of java! We're talking about a metal one of course. This lovely handmade laser cut cup of java is made from a lightweight sheet of aluminum and hand ground for the effect of depth and dimension. This piece comes in various sizes , starting at $60 for an 11×14″ to $95 for a 20×24″.  This item is equipped with stud mounts for secure hanging, and finished with a shiny protective clear coat.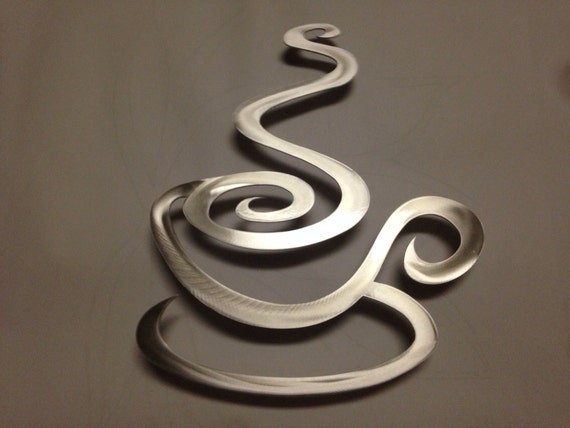 Pic:  Silver cup of Joe goes great on the wall!
If you are not feeling the love with silver aluminum, you can ask for a bronze or black finish. The shop is run by  Brandi Kettlewell in Riverside, California . She says, "I create because I love art, inspiring others, giving to charities all while working next to the love of my life and making a comfortable living at it."
Connect with Brandi
INSPIREMEtals on Etsy
Premier Iron  on Facebook
Related articles