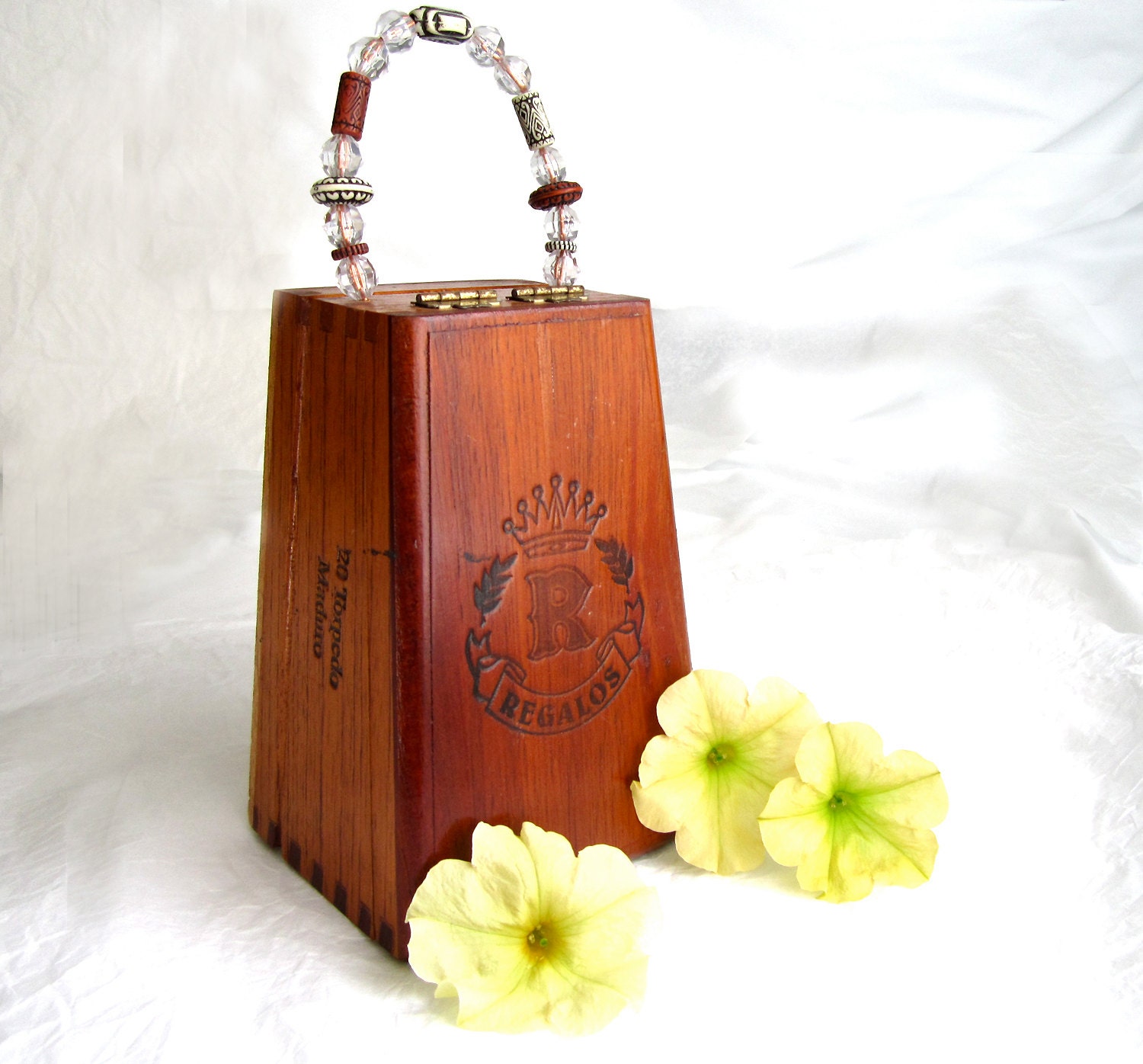 Photo: DstefanTreasures on Etsy, Cigar Box Purse $22.50
The Chic Fashion Statement
Cigar box purses go back to the 40's, maybe way earlier. Who knows who first decided to decorate a cigar box and add a handle? They were often handcrafted as souvenirs in travel destinations like Hawaii. They were an inexpensive craft project then, and still are today.
DIY
Making your own Cigar box purse is easy.  Essentially you will need the box, a closure, a handle (which you can make out of wire and beads) and a drill to make holes to attach the handle. Some may decide to use a hot glue gun and attach fabric to the inside, others may paint the inside or leave it original. You can also apply old cigar box labels inside if there are none, and a coat of felt on the bottom like the one below. There are many tutorials on it, here's a good one.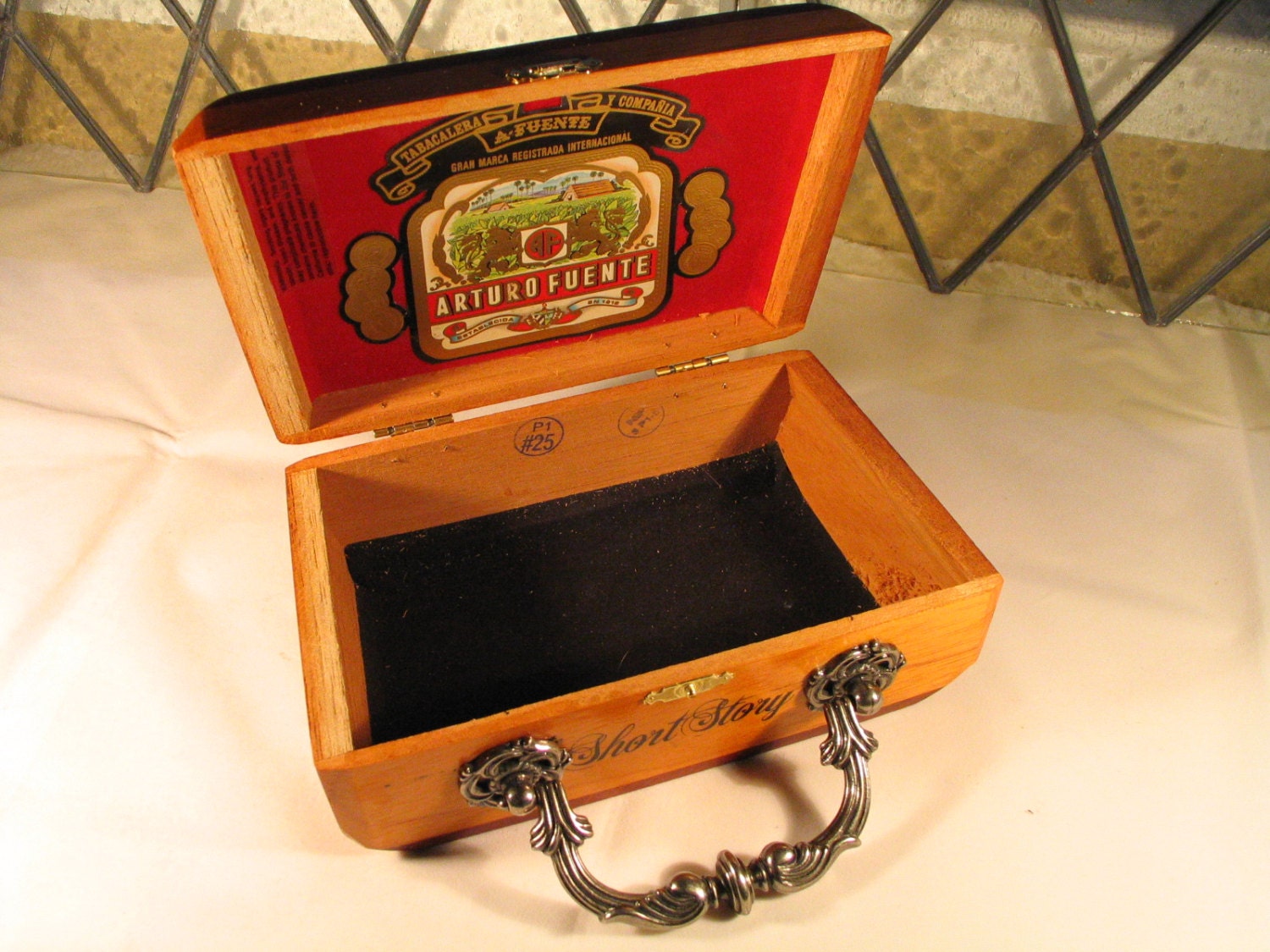 Photo Credit: ItzVintageDarling $28 note the originality has been saved.
Get Creative & Be Unique
Decorating the cigar box is the best part. You can decide if you want to paint it, or decoupage it, or simply let it be as is, maybe just put a coat of shellac on it. If it's a really neat box with great lettering, why not let it be original?  Your purse should be original, and reflect what you like. Decorating and decoupaging with vintage fashionistas may look tres' chic when you are done.  If you do this, just remember, no one out there will have the same purse as you.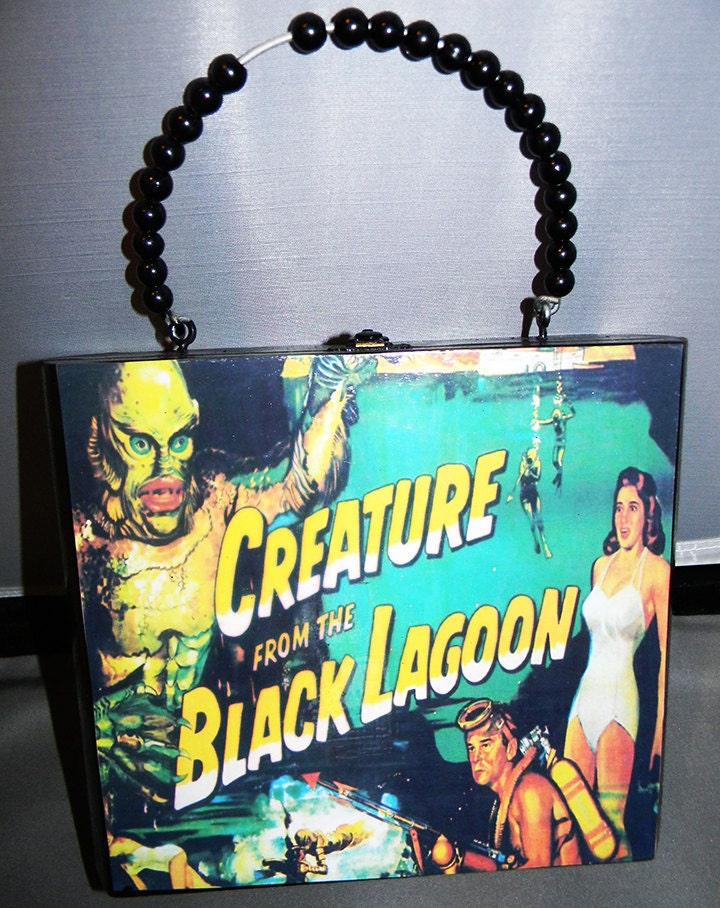 Cigar Box Purse Shows a Classic Film, This one $50 from Sacchetto on Etsy.
Closures
The big thing you must remember when crafting is to find a good closure clamp, so that your contents don't open up and fall out all over the place.  Steer clear of cheapie thin metal clamps that are so thin tin they will bend with the weight of your cosmetics.  It is also advisable if you can make a tight close, to add some velcro as a back up, in case your clamp breaks. I found a lot of closures and handles here at Unix.
At BuyCigarBoxes.com, you can get just about any empty cigar box you want, they have a huge selection!
Where to get the Cigar Boxes? 
BuyCigarBoxes.com sells quality, empty cigar boxes for crafts, hobbies, projects, storage, instrument creation and more.  This way you don't have to search high and low for vintage boxes where you may pay arm and a leg to acquire.
That's right, old boxes are collectible. I prefer using a newer box for the purse, that way, in case you don't like the look, you can buy a few and experiment.
Eco Friendly Craft Idea
Using old cigar boxes and turning them into purses is a great eco friendly craft idea.  Nothing like using old things and making them the best they can be.
Things to Remember
There is no right or wrong. It's what you like that matters. Always wanted to be daring? Do it. No one can stop you. This is your fashion statement. Wear it loud and wear it proud. Today, you are the diva fashionista.
Leave a link to your cigar box creation and I may just feature it in a future post!