Now making your own wall clock is simply and easy , and we will show you how.
What you will need: 
Old piece of wood or planks cut in square size for clock backboard –  see step 1 below for sizing.
Sandpaper
2-3 Colors Paint, one black for the clock face, the other for the backboard and one for shabby background effects. For this project you can stick to white and black, and mix some light grey from the two colors.
Artistic Stencils Clock Face – follow your measurements above for sizing.
Set of clock hands clock movement Mechanism – sizing requirements below.
Tools as needed to cut the plank board, and drill a hole for the clock face.
Clock Battery as specified by Clock Mechanism.
Deciding on the space in your home decide if you want a large square from plywood which you can shabby up, or perhaps you can find a really great piece of old vintage wood tossed out. Part of an old cabinet door perhaps, or some old wood paneling or planking that has gone to waste.  If you are using multiple boards, obviously they will need to be glued together and reinforced from behind ahead of time,  but for this project keep it simple and try to find a nice square to start with.  For sizing, the ArtisticStencils clock faces come in various sizes.  Choose a size and cut your board at least 4″ larger on all sides.  For example, this Paris Clock below starts at 10×10 but also goes to 20×20.  If you choose the 10×10 you will need at least a 14×14 board to center the clock on.   Note : Attaching optional hanger to the back later is up to you . This clock is meant to lean up against something, like a mantle.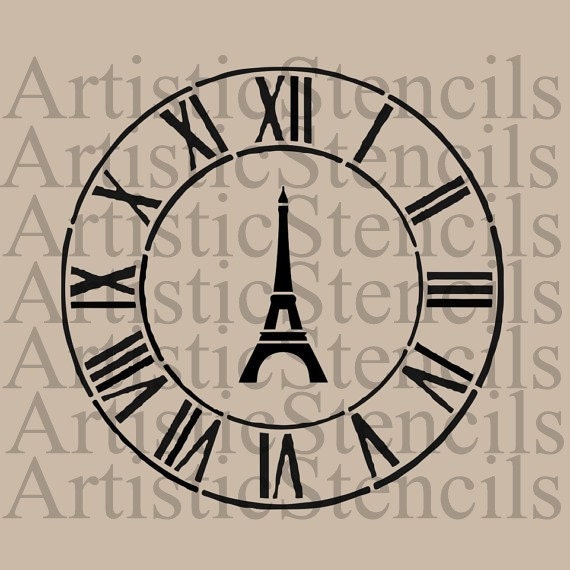 Parisian Clock from Artistic Stencils
2.  After the wood is cut and ready for primer take some sandpaper and knock off any rough edges left from the saw cuts or any chipping paint that may be difficult to paint over. .  If you feel the surface is too rough you can sand it lightly, but the more shabby the look the better.
3. For now it's time to paint the background of the board for the clock.  You will most likely want two coats unless you are using a good chalk paint like Annie Sloan, whose coverage seems to be pretty good.    Go swiftly with brush strokes and make it look shabby as you go.    After the first coat dries, you may wish to apply an offset strokes of highlights for a shabby effect. For this clock pictures above, the hues are white, grey shabby highlights and a black clock face.
4. After all that is dry you can gently hold your stencil in place and painting it with black to make the clock face.
5. After dry drill a hole in center and apply the clock mechanism with hands.
6. Add a battery to the clock and you should be ticking away.
TIPS:
This clock can lean up against something. You can always apply a chain or hanger to the back for hanging on the wall.
Alternatively, this would be the stencil as shown in the photograph above: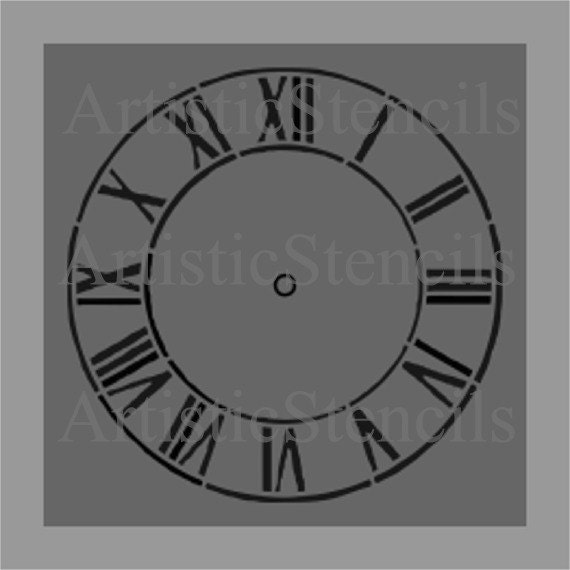 Artistic Stencils Clock Face